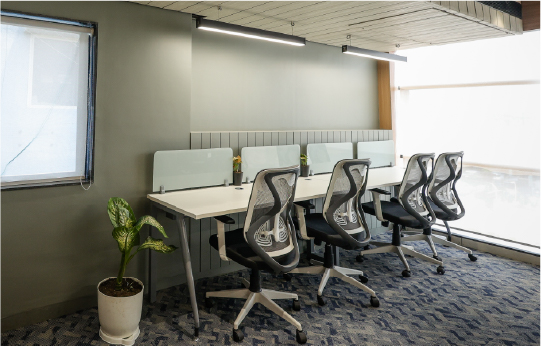 Under this plan, we will offer you a fixed place precisely a spot, unlike a flexible seat in our coworking space. You can choose a spot wherever you like, near the window or the cafeteria and for as many people as you want. You will get a desk big enough to accommodate all your stuff along with a lockable pedestal for your files.
If you are fond of community-style working and a flexible working environment, this is the plan you were looking for!
We at karyasthal understand how much homely feeling is important for you, and therefore we give you the freedom to post your family picture, quotes or brand logo, or a cute selfie with your pet. We try harder to create a comfortable and cozy environment for you.
We also respect your privacy, and the security of your valuable stuff is important to us. 24*7 CCTV surveillance, lockable storage, and the security staff will make sure that you and your belongings are safe. If you are struggling to find a perfect spot for your work, our dedicated workstation will find the perfect coworking space in Indore for you.
What will you get?
 It takes away every risk of your business with a lease that suits your terms, not ours.
With the latest IT and telecom infrastructure, your office requires less capital expenditure.
You will get maximum flexibility – Whether you grow, downsize, or relocate all this will be possible with minimal disruption, as we will take care of all the hassle of setting up and running your office.